Blaze is the child of may and an unkown courter. He was abandonded soon after birth. He escaped an orphange to find his mother and it took him three years. He lived with her till he left for his adventure.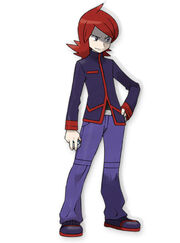 Mudkip -level 7
Tackle
Tailwhip
Water Gun
Pidgey- level 4
knows Gust
Leer
Sandattack
Mike- lose (forfeit)
Backpack
Map
potionx2
pokeballx3
oran berries x 4
posion heal x 2
Ad blocker interference detected!
Wikia is a free-to-use site that makes money from advertising. We have a modified experience for viewers using ad blockers

Wikia is not accessible if you've made further modifications. Remove the custom ad blocker rule(s) and the page will load as expected.