Elcidman is the main Rp trainer of Elcidman (user of the same name). He is a teenage boy from Littleroot Town in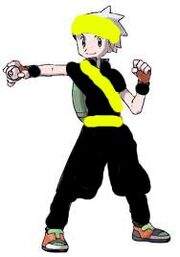 the Hoenn region who wants to become a Pokemon champion! His first Pokemon was
Lucifer
the Chimchar.
Personality
Edit
Elcidman is very loving towards his Pokemon and believes that Pokemon are not just pets or animals you fight with, they are your friends. He also believes that anyone who hurts Pokemon and thinks of them as just tools for getting what they want are evil and should be brought to justice. Elcidman is also focused on making his Pokemon stronger and becoming a champion.
Appearance
Edit
Elcidman is 5'3 and he has spiky white hair and wears a yellow headband, he has a pale skin tone. He dresses in all black with tennis shoes and has a yellow belt around his waist. He wears red gloves that expose his fingertips and black armbands below them. He also wears a green backpack that has a yellow strap, he is also seen holding a Poke ball.
1. Elcidman's first Pokemon was a Chimchar named Lucifer. Lucifer was caught by Professor Birch from when he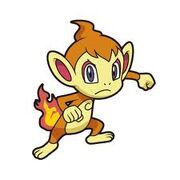 was traveling in the Sinnoh region.
Moves:
Scratch
Tackle
Headbutt
Quick Attack
Ember
Flamethrower
Heat Wave
Fire Punch
2.
Joltz
the Jolteon.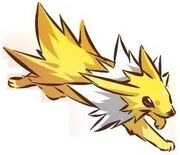 Moves:
Headbutt
Tackle
Bite
Scratch
Thunderpunch
Thundershock
Thunderbolt
Zap Cannon