Joltz is
Elcidman
's Jolteon. He captured Joltz when he was just a baby Eevee but didn't name him Joltz until he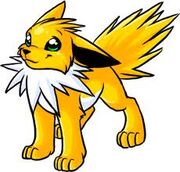 made him evolve with the Thunderstone.
Personality
Edit
Joltz is very defensive and looks out for his master, if anyone tries to hurt Elcidman he hits them with an electric shock. He doesn't like people touching his master and whenever a Team Magma grunt grabbed Elcidman by the shirt and threatened him, he shocked the Magma Grunt and knocked him unconscious.
Joltz loves to eat and his favorite food is berries, he also likes to eat peanuts and cashews. Whenever Joltz wins a battle, Elcidman gives him a snack as a reward.
Headbutt
Tackle
Bite
Scratch
Thunderpunch
Thundershock
Thunderbolt
Zap Cannon