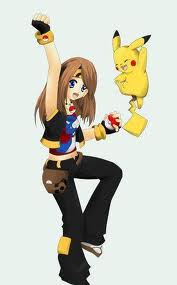 Volkson is the 2nd Gym leader and is the Gym Leader of Electricity. She is very energetic.
Personality
Edit
Volkson is a very energetic person. You could say she has an 'Electric' attitude.
Appearance
Edit
She has brown hair and blue eyes. She has black pants and a blue shir. She has yellow wristbands with Pokeballs on them. Also a yellow head band with a black marking on it. Also she has a Pokeball necklace.
Pikachu (Lvl 13)
Edit
Moves:
Thundershock
Growl
Quick Attack
Tail Whip
Magnemite (Lvl 10)
Edit
Moves:
Metal Sound
Tackle
Thundershock
Jolteon (Lvl 15)
Edit
Moves:
ThunderShock
Tackle
Helping Hand
Sand-Attack
Badge and Prize
Edit
Volkson's badge is the ThunderStorm Badge. Her prize is TM73 (Thunder Wave)